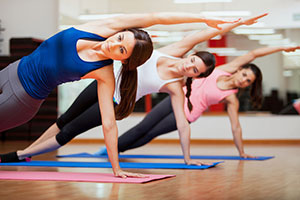 There are a lot of superhero movies out there lately. When you watch them, do you ever wonder if you could get your body even that close to being in such great shape? Well, you can certainly try!
Follow this plan to get in the best shape possible like the superheroes you see on the big screen. With this superhero workout, you will turn your chest and shoulders into those like The Hulk, your forearms like Wolverine's, your agility like Spiderman's, and you will increase your speed like Flash.
Chest: Gymnastics Flyes
You have probably noticed while watching the Olympics that gymnasts have huge development in their pectoral muscles. Doing gymnastics flyes can help you build your chest muscles to represent The Hulk's.
To do this exercise, set a barbell up high in a power rack and put the straps around it, allowing them to hang just a bit wider than the width of your shoulders. Grab the straps, maintaining an engaged core and keeping your body in a straight line. Lower your torso by separating your arms as much as you can. Then, reverse this motion until your arms are stretched out in front of you. Do two sets with as many reps as you can, making sure to rest for two minutes between sets.
Shoulders: Hang Clean and Press
Hold a barbell overhand, shoulder-width apart. Maintain a flat back as you lower the barbell to knee level. Then straighten your body and elevate yourself on the balls of your feet. Flip your wrists over and push the weight up straight over your head. Reverse the movement to go back to your original position to complete one rep. Do a set of six to eight reps, resting up to two minutes in between each set. Then use a lighter load to complete another set of 10-20 reps.
Forearms: Plate Pinch Curl
To do this, put two small plates together, with the smooth side facing out, and create a tight grip with your fingers. Do a curl as you are rotating your wrists out as you move. Then, return your arms to your sides to complete your first rep. Do four sets of 8 to 12 reps, without resting too much in between sets.
Forearms: Thick-Bar Curl
Wrap a towel around a bar or use specialized grips to do this bar curl. Start by grabbing the bar using a shoulder-width, underhand grip. Do a curling motion and lower the bar to finish your first rep. Complete four sets of 8-12 reps, with as little rest as possible between sets. Do this after every normal workout.
Forearms: Hammer Curl with Twist
Wrap a towel around a bar or use specialized grips to do this bar curl. Put your palms facing inward and your forearms parallel to the ground, rotate your wrists until your palms are facing downward. Then rotate your palms up until they are facing the ceiling. Return to your starting position to complete one rep. Do three sets of 8-12 reps, with as little rest as possible between sets.
Speed: Pistol Squat
The more strength you have in your legs, the more speed you will be able to acquire. While standing on one leg, raise the other one up in front of you as high as possible. Keep your lower back straight and your torso engaged and upright. Do a squat on one leg as best as you can, then return to your original position. You can stand next to a wall for support if necessary. This is one rep. Do three sets of 10 reps on both of your legs, but make sure to rest for three minutes between sets.
Speed: Hill Sprints
Find somewhere that you can run on a 15 degree incline, whether it is a hill or any other surface. You want to be able to feel the resistance as you are sprinting, but you don't want it to be as if you are climbing a steep hill. Sprint for 25 yards up the incline before walking back down to complete one set. Rest for two minutes before doing your next set. Do eight sets.
These workouts will help you get in superhero shape and allow your body to work at an optimal level.
About the Author
Dave Mugavero is the owner of Custom Bodies Fitness in Irvine, California. He is extremely proud of his success as the top rated health club in Orange County. Dave has been in the fitness industry for over 24 years, and is widely considered by his peers to be a "Weight Loss Guru". His extensive knowledge of nutrition, human physiology, personal training and weight loss techniques, and his caring commitment to each client are what make him an expert in his field. He has been a top ranked Natural Body Builder and highly sought after personal trainer and lecturer.