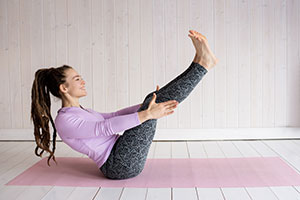 The cadence of everyday life has been drastically changed with the arrival of the coronavirus (COVID-19) pandemic. Everyone in the world seems to be affected by it in some way. The challenges associated with self-isolation and social distancing are being dealt with differently. The reality of it is that none of us need to be completely alone in every way.
Building Community
This is the time to build up a community. It is an opportunity to share as much positive and useful information as possible. Many people are going to have to miss their usual workout routines at
fitness
centers and gyms because they are closed. There are currently many options for people to do at-home workouts. That is only the beginning. Some places are hosting live
workout
sessions on Instagram. This could include online sessions offered by a favorite trainer. This is an excellent way to still have a class-shaped workout as part of a daily routine.
Workout From Home
Dan Giordano, D.P.T. C.S.C.S., is a practicing physical therapist. He recently held his latest online session for followers from his apartment in New York City. People who wanted to work out with him in their home only needed a yoga mat to participate. People who wanted to have some extra knee padding were suggested to also have a towel. Giordano provides a routine for those who have a goal of improving their mobility flow. This is a flow that can be done each day. Should someone be feeling especially tight, they can try doing this routine.
Joint Movement
This could involve a person's ability to move their joint actively through a range of different motions. Giordano tells people it is extremely important for them to continue to work on their mobility flow. This is an effective way for a person to improve the quality of their body's awareness and movement
quality
. He hopes people can catch the session he provides live and participate in it to have fun.
Health Improvement
Movement is essential. It can prep a person's nervous system as well as improve circulation and blood flow. When a person improves their circulation, the cells in their immune system can move more freely throughout their
body
. This will increase their efficiency and effectiveness. Circulation can help flush bacteria out of a person's lungs and airways. This will decrease their chance of getting an infection.
Benefits
There are many benefits for those who do mobility flow training. It is something that has helped people experience improvement with other types of exercising, stretching and more.
*It has been shown to help improve a person's performance in other types of physical activities like sports and games.
*It can provide individuals with a calming feeling and help them release their stress.
*These exercises are able to keep certain physical problems away such as knee pain, backache, and others.
*It can help improve a person's range of motion. It can also prevent the stiffness a person experiences with strength training and muscle build-up.
*These exercises are an excellent way for individuals to warm up prior to doing a regular workout routine.
*They can be a low-intensity exercise. This will give a person's body a break and help it to heal after doing high-intensity training.
*These exercises can help keep the signs of aging under control. It helps a person's body be more flexible and supple for a longer length of time.
*They can add a variety of changes to a person's regular workout routine. This will help keep them motivated to continue with it.
If someone has never previously done mobility flow, it is never too late to start. Your body may take a while to adapt to this new form of exercising. The result is you can get many of your muscle-knots worked out and improve your strength, flexibility and more.
About the Author
Dave Mugavero is the owner of Custom Bodies Fitness in Irvine, California. He is extremely proud of his success as the top rated health club in Orange County. Dave has been in the fitness industry for over 24 years, and is widely considered by his peers to be a "Weight Loss Guru". His extensive knowledge of nutrition, human physiology, personal training and weight loss techniques, and his caring commitment to each client are what make him an expert in his field. He has been a top ranked Natural Body Builder and highly sought after personal trainer and lecturer.